Cape Cod Handyman
Cape Cod Handyman for small jobs, maintenance and home repairs
Routine home maintenance and repair are part of home ownership. If you are not a do-it-yourselfer, you may want to hire a handyman to take care of these tasks. Depending on your project list you need to determine if it is worth bringing in a carpenter, an electrician, a plumber and a painter for several small jobs or one handyman who can do it all. In most cases it will be less expensive to hire a handyman to tackle a punch list of small jobs.
What is the difference between a handyman and a remodeling company?
A remodeling company does not usually want to do small jobs or repair work.
A handyman is more likely to do these small or odd jobs and will not usually take on large additions or whole house remodeling projects.
Handyman services may include but are not limited to: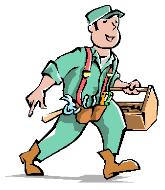 Interior & exterior Painting & Wallpaper Hanging
Drywall and plaster repair
General Carpentry - trim, decks, repairs
Tile & Grout Work
Window Cleaning
Dump Runs - basement, garage and attic clean outs
Snow Removal
Gutters and gutter cleaning
Minor repairs - plumbing, electrical
Some handymen may offer other services such as screen repairs, wood rot repair, shelving, power washing, light masonry, mowing and other landscape related projects.
You should make sure the handyman you hire for your project is insured and bonded. It may be a good idea to see if they have a valid Massachusetts home improvement contractor license. It is also a good idea to ask your prospective handyman for references and contact these previous customers for their opinion.
Get a free estimate on your Cape Cod home improvement or home maintenance project
Recent Posts
Gutter repairs: Fix damaged, leaky or sagging gutters, install gutter covers, screens & other accessories
A proper gutter system keeps rainwater running freely and safely away from your home, where it won't create problems. If your gutters are clogged with leaves, pine needles or other debris, they will fill with water during a rainstorm and sag which can damage your gutters or the roof trim and cause water problems. Have your leaky gutters fixed and install leaf screens, gutter covers, splash blocks and other gutter and drainage accessories installed or repaired and eliminate future drainage problems. Fill out the form below and get a free quote on your gutter project from our gutter specialist:
READ MORE...
---
Cape Cod gutter cleaning and downspout flushing
Need your gutters cleaned on Cape Cod? Gutters can get clogged and filled with debris like leaves and pine needles, which may lead to more serious problems like ice dams, roof leaks, flooding from drainage issues and damage to the gutters themselves. It's a good idea to make sure your gutters are clean and that rainwater is flowing properly, especially after all the leaves have fallen and before the winter freeze can cause bigger problems. Fill out the form below to contact our gutter cleaning specialist:
READ MORE...
---
Get your wooden fence posts, gates, boards, rails or sections fixed, repaired or replaced
Got wooden fence problems? With all the high winds we have gotten this year, there are many broken or damaged fences on Cape Cod. Have your broken, rotten or wobbly fence posts, fence boards, fencing panels or gate hardware fixed by our Cape Cod fence professional. Fill out the form below to contact our fence repair specialist:
READ MORE...
---